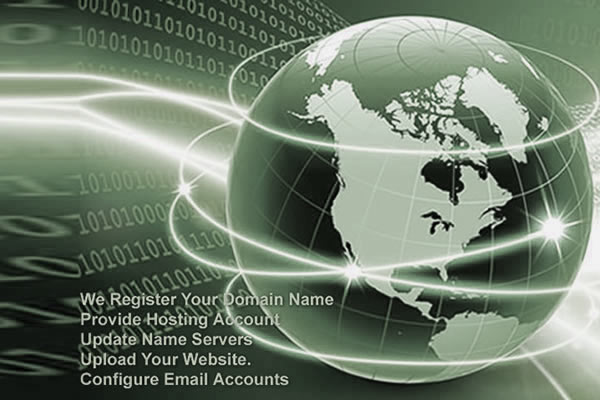 In order to have a functional website, a business is required to register their domain name. We provide wide range of Domain hosting services. We suggest appropriate domain names for your business, perform domain name search, obtain preferred domain names and hosting services. A domain name must be unique and can not be shared with another business or company. Once registered, your can maintain the domain hosting on an annual basis.
A domain name is an identification label of your business on the Internet. Domain names are formed by the rules and procedures of the Domain Name System (DNS). The first-level set of domain names are the top-level domains (TLDs), including the generic top-level domains (gTLDs), such as the prominent domains com, net and org, and the country code top-level domains (ccTLDs). Below these top-level domains in the DNS hierarchy are the second-level and third-level domain names that are typically open for reservation by end-users that wish to connect local area networks to the Internet, run web sites, or create other publicly accessible Internet resources.
An important purpose of domain names is to provide easily recognizable and memorizable names to numerically addressed Internet resources (ex 220.101.23.16). This abstraction allows any resource (e.g., website) to be moved to a different physical location in the address topology of the network, globally or locally in an intranet. This is also called domain name pointing or DNS delegation.
Domain names are often referred to simply as domains and domain name registrants are frequently referred to as domain owners, although domain name registration with a registrar does not confer any legal ownership of the domain name, but only an exclusive right of use. The Internet Corporation for Assigned Names and Numbers (ICANN) manages the top-level development and architecture of the Internet domain name space. It authorizes domain name registrars, through which domain names may be registered and reassigned.
In order to have a website, you must first decide on a suitable shortest possible name that aptly represents what you want to offer through your website. It might represent the name of the company or the product or services you offer. It should be catchy, easy to spell and remember.